This week has brought some much-needed good news for California Brown Pelicans. In the past year we've mobilized the Audubon network to urge the U.S. Fish and Wildlife Service to better track and protect pelicans which are experiencing unprecedented breeding failures in the U.S. and Mexico, and die-offs in the U.S., linked to low abundance of key forage fish. In response to our advocacy, the Service will allocate funding to complete essential monitoring and analysis of the status of breeding pelicans at their only U.S. breeding colony.
The California Brown Pelican subspecies ranges from Baja Mexico through British Columbia, with breeding restricted to southern California and Mexico. In the U.S., breeding colonies exist only at Anacapa and Santa Barbara islands in the U.S. Channel Islands. These well-protected islands host about 20% of the global breeding population of the California Brown Pelican subspecies. Robust breeding – high productivity - at the Channel Islands was a primary reason this subspecies was triumphantly removed from the Endangered Species List in 2009. Since that time, however, breeding has been poor or nearly absent at the Channel Islands. And this year, for the first time ever reported, productivity is poor rangewide-across all colonies monitored in Mexico, on the Pacific and Gulf sides, in addition to California. This is alarming pelican experts.
At the same time, there has been greatly decreased management attention on Brown Pelicans since 2009. Most important, colony monitoring has not been directly funded, threatening the knowledge base needed to understand the trajectory of the species. When we learned late last year that no colony monitoring at all would take place due to Service funding shortfalls- which would interrupt a 45 year unbroken monitoring record – we teamed with International Bird Rescue and the Pacific Seabird Group to lean on the Service to ensure pelicans are not ignored.
We also called on the Audubon network, and got a resounding response. Activists from across the state sent over 2000 letters to the Service calling for increased management attention. Subsequently, eight chapters in southern and central California – San Fernando Valley, Buena Vista, Pasadena, San Diego, Sea and Sage, Santa Barbara, Ventura, and Morro Coast – contributed to the support of a leading pelican expert to monitor early season nesting at the Channel Islands. Dave Weeshoff (pictured below), Board member of San Fernando Valley Audubon, says "We were happy to team with other chapters in the Audubon network to ensure our beloved pelicans do not fall through the cracks. Now we are looking to the Fish and Wildlife Service to track and protect these birds through hard times."
This bridge funding was the essential infusion needed to ensure pelicans were watched over until the Service agreed to allocate the funds to complete monitoring this breeding season. The Service funding will also be used to analyze unpublished colony monitoring data collected over the past five years, which will greatly enhance the utility of this information to state and federal wildlife, and to fisheries managers: in a parallel and complementary effort, Audubon is working to ensure forage fish that are favored by Brown Pelicans, such as anchovy and Pacific herring, are abundant and available for breeding and wintering pelicans and other seabirds.
In sum, this small yet important conservation win is in the hands of the chapters and the entire Audubon network. In the coming months and years we will keep working to ensure the beloved pelican is tracked and that its food supply becomes more secure.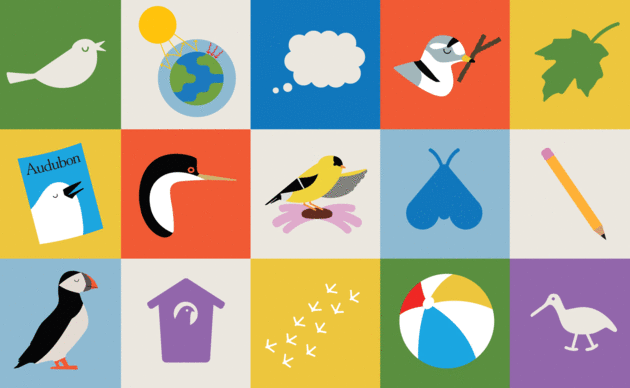 Audubon for Kids
Enjoy DIY activities that can be done at home or in a yard or park to give your child space to explore and feel connected to the natural world. Also available in Español.