Interview with Colleen Quen, fashion designer and couturier for the Six Foot Wingspan Dance Project.
How did you make the bird costumes?
As a fashion designer, I make creations that are extensions of the dancers, almost like qi energy and an extra shield for them, so they can become the character of the bird they want to be. The costume is like a superpower for them. I'm like the mother bird and the dancers were like my baby birds in the nest. I'm dressing you so you can fly, dance, and give your message to the world.
I studied each bird and their colors, shape, beak, eyes, and personality. The character of it. There was so much wealth of information to honor in learning about the birds.
And then I get to know the dancer and what they feel about the bird. Then, I look at how the dancer dances to the bird. Oh my gosh, they are really becoming it now. Then I imagine them in their costume and how I will incorporate the wings or the tails.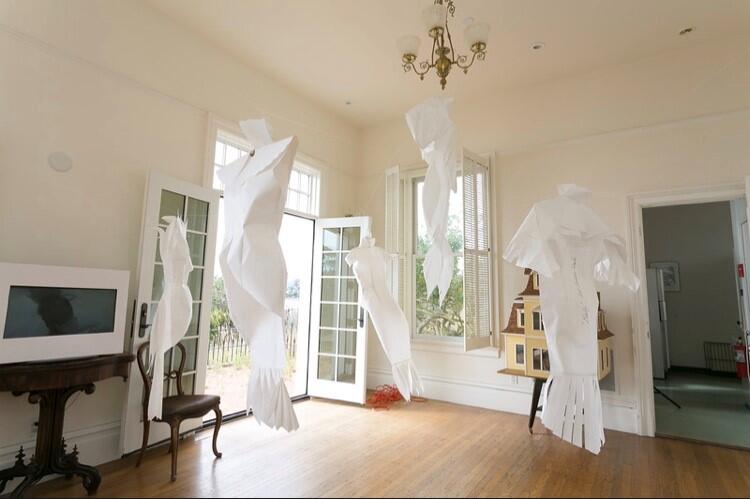 For example, I really resonated with KJ's Nuttall's Woodpecker. I really connected with her bird's markings and character and KJ's personality. The costume is really angular and architectural. I appreciate the nature and beauty of the woodpecker's spots. They were born like that. It's just god's gift. It was kind of unisex. I loved using white paint on the feathers to bring them to life.
How did mindful bird sits prepare you to make the costumes?
I'm a qigong practitioner and I meditate. But I meditated inside and I would listen to my qigong master's music which is so connective while I'm collecting light within the music frame. When Molly taught me how to bird sit and meditate outside, I found all those composers and natural musicians, which are the birds singing. I was appreciating them and their voice, their messages, their moods, and their emotions.
She was able to get me in touch in that way, I could sink into Mother Nature and the heavens. And I get very connected to the birds. And now, I just love listening to the natural composers, the musicians of the birds outside, and being as one with them. Thank you so much, Molly, for your gift, you are my Shifu master.
What was your feeling when you saw the dancers performing in your costumes?
Wow, what can I say? I was so honored and proud because I felt like I could be of purpose as a couturier. I'm here to be a bridge. I'm all about humanity, being a vessel of creation, and helping to bridge my gift with other amazing collaborators.
When we were at the Audubon Center at Richardson Bay, all the dancers were having their makeup and hair done. We had to be in sync from head to toe, to fulfill on our vision and make it sophisticated.
That's how I feel the birds are - so elegant, beautiful, and refined. When we were all together and I saw the hair, makeup, and costumes come together, and to hear the dancers' feedback about how happy they felt, that makes me feel so good.
When I saw them performing and they were dancing in the trees, it was so magical for me and I felt like I was in dance wonderland. Something about dance performance outdoors is such a beautiful way. To be working in the bird sanctuary of Audubon was so amazing, magical, and precious. I was super proud and honored.
I'm hoping that these performances that we did will be like planting the seeds for more. Taking the audiences to an environment outdoors and teaching them to observe and appreciate the beauty.
I want to learn more and create more. I feel like it's an infinite inspiration for me. Every time, I look at Audubon Instagram, there's another beautiful bird I can learn about. It's so fascinating.
A whole marriage, it's like I just gave birth to you. And then we bird sit. You take me into the sky.
It was an amazing experience, I'm super grateful. It was the purest form of expression.
Watch how Colleen's costumes come to life in these dance films by Sarah Bush Dance Project.