Your eyes rest upon a painting of a crow, bordering on photorealistic and stark against a light green background. The iridescent feathers are perfectly captured and its gaze is convincingly pensive. When you search for the description of such an elegant piece, you see its title: "Had I But Hands To Put About Your Throat."
You have entered the mind of Matt Adrian, painter of birds, master of long-winded titles with a bite.
"It just struck me as something a crow would be saying," says Adrian, commonly known as Mincing Mockingbird in online communities. "That's kind of where my writing hits. It hits that weird mix of melancholy and silliness. It has to do with humans as well. It's that tension between nature and all the horrific damage we're doing to their ecosystem. That's what I go for."
A few other titles from his collection are: "In This Poignant Moment Of Finality, The Vibration Of Atoms Sounds Like Singing," "I Will Not Admit That The Disturbingly Protracted Inter-Digestive Squirming Of Worms Is Erotic, But You Won't Catch Me Denying It," and "'Just For A Laugh' Is Rarely An Excuse For The Coordinated And Sustained Introduction Of Non-Native Species."
Adrian started painting birds when they were chosen as the theme of a group art show in 2007. He's been painting the avian creatures ever since. He has a longstanding interest in nature, having previously worked in wildlife rescue and rehabilitation, but he'd never thought much about birds.
With the art show, "something just clicked," he says. "It's like I started seeing birds for the first time … I was seeing another world that existed just right outside the door that was so full of color and vibrancy and life."
By 2009, he made a full-time career out of painting birds. He now travels all over the world, photographing different species with his wife to collect reference photos for his art.
On his most recent trip to Costa Rica, he experienced his most exciting sighting – a Royal Flycatcher.
After a trip, Adrian sorts through his thousands of photos, sketching until he finds a shot that speaks to him, one worthy of a painting. When the acrylic dries, he searches for a title that he thinks fits the bird, making sure to get an appreciative nod or chuckle out of his wife before settling on the name. Then he begins the process again so that he can paint as many of the roughly 10,000 species of birds as he can.
Through all of this creation, he's able to make his living by selling calendars, postcards, magnets, and other merchandise on an online store that he shares with his wife and fellow artist, Kim Bagwell. He also mentions that he's lucky to have a network of patrons who collect his work.
Adrian recently published his third volume of fine art paintings, Prolonging Revenge through Reincarnation, but also has more illustrated paintings known as the "troubled birds," where the captions are integrated directly into the piece. His favorite of this series is a cardinal flanked by the words, "He gave them the heebie-jeebies. He had nothing else to give." The series holds its own in the blogosphere with certain pieces reaching meme-status. Of particular notoriety is the bird saying, "The risk I took was calculated, but man, am I bad at math." Another popular piece reads, "I'd sell you to Satan for one corn chip."
Despite all of the work involving birds, Adrian says he would not consider himself "any kind of birder of quality," but that he's getting better. Through his work, he was able to see bird banding done by Smithsonian ornithologists on Santa Cruz Island last year, an exciting moment for a self-described science enthusiast.
As for what's next, Adrian looks forward to his solo exhibition this August, Rara Avis, at the Nahcotta gallery in New Hampshire.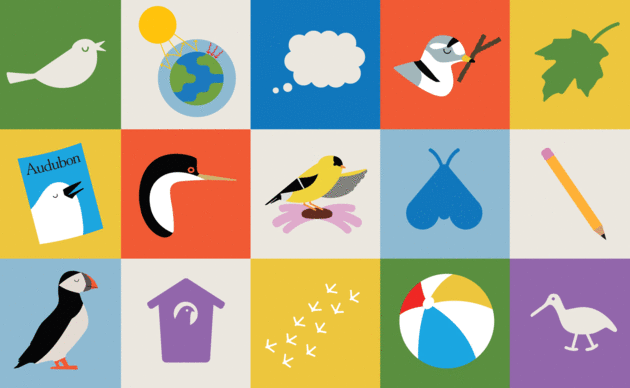 Audubon for Kids
Enjoy DIY activities that can be done at home or in a yard or park to give your child space to explore and feel connected to the natural world. Also available in Español.