Scaup, Buffleheads, Ruby-crowned kinglet, Bushtits, Gulls, Osprey, and Marbled godwits were just a few of the birds that I saw while on a bird walk with about 30 others as part of the 5th Annual Waterbird Festival at Richardson Bay Audubon Center and Sanctuary this past Saturday. Over 500 people attended the Festival at Richardson Bay Audubon Center and Sanctuary and several off-site events.
Through the scopes behind Lyford house with a distant crisp view of San Francisco Joey Neagrann, a Seasonal Biologist at the Center, pointed out Scaup and showed us the difference between Greater and Lesser Scaup using a bird guide. After sharing some background about the Richardson Bay Sanctuary and the eelgrass which attracts herring to spawn and birds to feed, our group of about 30 headed up the hill into a riparian area dotted by Oaks. We were soon checking out a flock of Bushtits that moved from tree to tree in a flurry. We soon spotted a Ruby-crowned kinglet feeding on insects on a tree trunk.
After descending the hill to the beach we used the scope to check out marbled godwits on the mudflats and an Osprey who had just caught a fish enjoying its meal. On the beach we were joined by 3 other groups on bird walks, including a group of over 50 on a bilingual walk. The group split up on the beach taking different routes back to the lawn, exploring the property and mingling with Rich Cimino's birding basics workshop which joined us on the beach.
The festival was in full swing as we got back to the lawn. Families picnicked, relaxed and danced on the lawn to bluegrass music by Blue Summit. The lunch crowds gathered at The Bodega CA food truck and Lucky 13's beer and wine truck.
Meanwhile, Andrea Jones, Director of Bird Conservation at Audubon California, was on board the boat tour with just over 40 others making its way around San Francisco Bay spotting dozens of seals, sea lions and several porpoises. On a rocky point near the Golden Gate Bridge they spotted a pair of Black Oyster Catchers and hundreds of grebes on the water nearby. Jones described for the group how grebes can't walk and moms raise their babies on their backs in the water. They passed a frenzy of gulls feeding on the last of a herring spawn from two days before and near Richmond a few male Osprey's were spotted guarding their territory for the winter.
Before grabbing a delicious lunch from The Bodega CA food truck, I joined a group of families learning about our native plant nursery from Seasonal Biologist Erin Barry. Erin helped kids plant coastal live oak acorns that were collected on site. The acorns will be kept in the nursery until they sprout and become large enough seedlings to be replanted on site.
The speaker series kicked off in the afternoon with Max Tarjan from The San Francisco Bay Observatory, Heather Robinson from The Farallon Institute and Bob Lewis a bay area birder who gave us insight into how shorebirds get their supper. I caught Heather Robinson's talk about seabird monitoring on Alcatraz Island where I learned as much about the history of the island as I did about the birds who call it home.
On the patio surrounding Lyford House the crowd was busy interacting with local Audubon Chapters, the International Bird Rescue Committee, Bay Shore Studies, Slide Ranch and representatives from Point Blue Conservation Science. Native oysters were on display by The Smithsonian Institute – an organization that partners with Audubon on research projects in Richardson Bay. From there I wandered into Lyford House where I ran into Robert Stevenson's fantastic avian art from Flock Gallery and the artist himself chatting with some visitors.
Back outside on the lawn I relaxed with fellow birders enjoying the view and sunny day. All in all this Waterbird Festival was a great community event that we will all look forward to next year.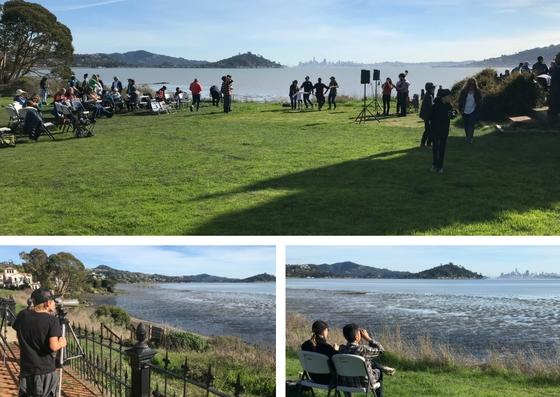 Thanks to everyone who visited the Richardson Bay Audubon Center and Sanctuary for the 5th Annual Waterbird Festival and to all of the volunteers and organizations that made it a success! We hope to see you at the center again soon.
Learn more about opportunities to get involved at the center by volunteering, going on a bird walk, taking part in waterbird surveys, summer camps, our youth leader program and more by visiting their website or signing up for their E-Newsletter here.
Check out a video of the 2018 Waterbird Festival here: ​
We want to thank the Belvedere Community Foundation for their generous and kind support of the Waterbird Festival as well as Whole Foods for their donation.