As the year comes to a close, I've been reflecting on how dynamic the crossroads of bird conservation and community engagement at the Salton Sea are. Our Eyes on the Sea program aims to build leadership capacity among community members and students in the East Coachella Valley region through active participation in both biological monitoring and political lobbying. This year, in addition to upping our data collection game at the Sea, we've been able to engage with a variety of populations, including high schoolers, college students, faith-based groups, among others.
Engagement from the communities surrounding the Sea becomes increasingly valuable during a time of severe environmental changes that are causing the public to consider the relationship between healthy ecosystems and healthy human communities. It's for this reason and others that we are especially pleased with our advances on the ground in 2019, which have set the stage for another great year in 2020.
Here are a few snapshots from moments throughout the year.
Field trips to the Sea
Young people from Indio High School's environmental club were interested in learning more about the Sea, and like many communities in the US that border natural protected areas, visitation tends to be low on the part of the locals. Some of these students, who grew up 20 minutes from California's largest body of water, had never been to the Salton Sea before. Field trips were a great opportunity to visit the Sea, as well as to practice biological monitoring techniques like testing soil for pH and dissolved oxygen in water. The students took a particular liking to birding as well.
Field trip to the State Capital
Every year, community members from across the State participate in Audubon's Advocacy Day, a chance to advocate for birds and their habitats en masse at the Capitol building in Sacramento. After all, birds as the more resilient and adaptable of the animals, can tell us about the health of ecosystems by their absence or presence in a given environment. Of course, we are seeing more and more how environmental health translates to human health. We were joined on Advocacy Day by students from Indio High as well as Professor Leuschner from College of the Desert.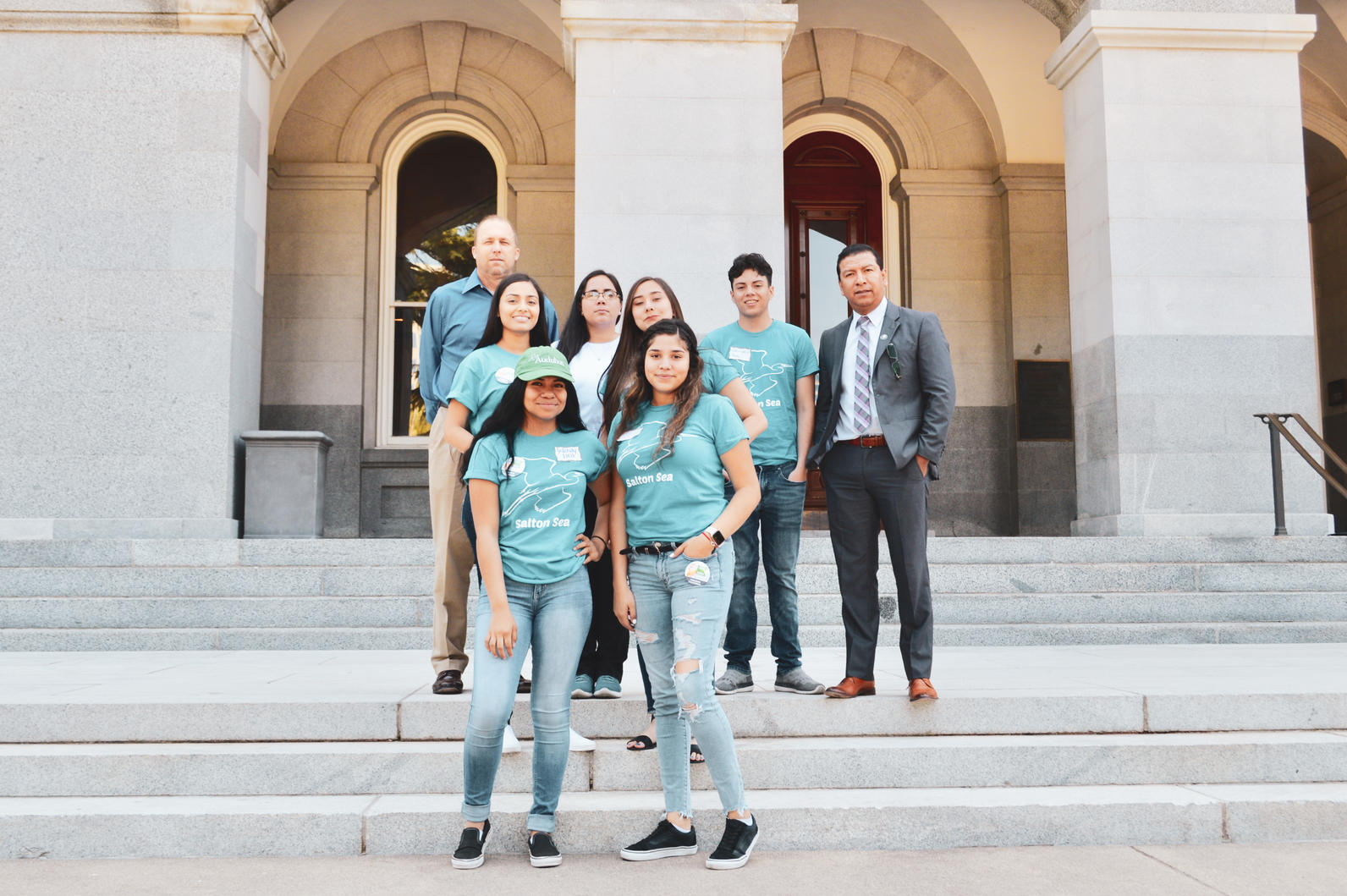 Salton Sea Summit
The Salton Sea Summit was held between October 16-18 at University of California Riverside's extension campus in Palm Desert, California. The event was a chance for State and non-governmental agencies to share information about science, dust mitigation and habitat management projects, policy, and public health. The Summit saw an increase in community attendance relative to years prior. The last moment of the event was a youth and student-focused workshop wherein high schoolers and college students were able to dialogue with adult professionals working in the areas of government, science, and social justice at the Salton Sea. Many participants commented that they enjoyed the workshop because it allowed for real conversations to take place in a public setting. Local filmmakers Bryan Mendez and Olivia Rodriguez also screened their documentary about the lived experiences of communities surrounding the Sea. Estamos Aquí is the only film about the Salton Sea produced by residents from the region itself.
Bird Surveys
2019 marked an increase in bird survey frequency from bi-monthly to once monthly. Increased data during this critical moment in Salton Sea history, as well as that of the Pacific Flyway, is invaluable. Apart from interest on the part of high school and college students to seek ways to directly address issues at the Salton Sea, we have also seen increased interest from community members who have been appearing at our bird surveys in increasing numbers. We average about three volunteers of varying birding skill-levels per survey. All skill levels are welcome and no matter a person's birding ability, everyone's presence is a huge contribution to the future management of the Salton Sea. The more interest and concern the State sees on the part of community members in the Coachella-Imperial region, the faster they will take action.
Yes, 2019 was a great year for community action at the Sea. During this pivotal moment of lowering water levels and increasing salinity, the future ecology of the Sea is unstable and vulnerable. Nonetheless, increased scientific data as well as heightened interest on the part of local communities is paramount to a healthier future going forward.
See more pictures from our surveys on Instagram @audubon_saltonsea
If you are interested in joining a future survey, please email saltonsea@audubon.org