There are plenty of ways to get started on your bird language learning journey through online programs
Talking with Birds is a 4-week online journey focusing on how to better understand and communicate with birds. Experience unique, interesting and engaging lessons with seasoned educator, naturalist and bird language expert, Dan Gardoqui. Each week, Dan curates a class experience that includes elements of: well-researched content (photos, videos, facts and stories); class connection time where we learn as a "flock"; and time for individual questions and answers from students.
This course includes:
How to do a "Bird Sit" & Interpret the Five Voices of Birds
Bird Awareness Training – Tips and Practices
Beyond Birding: Moving from Listing to Listening
Case Studies of Common Birds & What They're Saying
How to Stoke Your Curiosity & Enhance Your Empathy for Birds
Ways to Reciprocate and Support Bird Conservation at Home
Register for an upcoming course: https://www.leadwithnature.com/online/
This DVD set will give you the tools you need to see the landscape through the eyes of the birds, and bringing you to a more intimate relationship with the world unfolding outside your door.
Bird language expert Jon Young distills 35 years field knowledge of bird behaviors to bring you the basics of Bird Language. Learning to recognize the meanings of vocalization types and body signals of common birds, you will clearly see the essential role they play in the lives of the birds.
Get Disc 1 for learning to identify bird language patterns in the field. Get Disc 2 for learning how to map out the behavior you are seeing both on your own and in group settings (Discs sold separately). Purchase here: https://birdlanguage.com/products/bird-language-dvd-set/
Bird Language Basics (Disc 1):
Through animations, nature footage and Jon Young's compelling narration, you will learn the basic tools necessary to begin deciphering the language hidden in the vocalizations and behaviors of common song birds. In Bird Language Basics we will examine the 5 Voices of the Birds, the 12 Shapes of Alarm, and the five "Best" Bird Language Birds. You will never look at a song bird the same way again!
The animations in Disc One highlight big-picture patterns of bird language that allow you to step into the world of birds and animals unfolding beyond the boundaries of our awareness. Like the Kalahari Bushmen of Africa, people in both cities and rural areas can use knowledge of bird language as a dynamic indicator of predator-prey relationships.
This updated second edition includes new expanded footage of the Five Voices of bird language in action.
WATCH two excerpts from this DVD:
5 Voices of the Birds
Shapes of Alarm
Bird Language in Groups (Disc 2)
With decades of teaching Bird Language, Jon Young has distilled the process down to a fun and efficient Bird Language Group learning model.
Follow five experts in Bird Language Groups, as they conduct their own bird sit, mapping session and debrief, and explain the conduct, conventions and systems necessary to run a Bird Language group in your neighborhood.
In this disc, you will become acquainted with mentoring methods for teaching bird language developed by Jon and other instructors at the Wilderness Awareness School and the 8 Shields Institute. This method of group bird sits and bird language mapping is demonstrated in a way that enhances the experience of both the beginning and experienced naturalist.
Purchase here: https://birdlanguage.com/products/bird-language-dvd-set/
Guide to Bird Language Patterns
Download free guide with 12 common patterns and mapping key.
BOOK ON BIRD LANGUAGE
What the Robin Knows: How Birds Reveal Nature's Secrets by Jon Young
A lifelong birder, tracker, and naturalist, Jon Young is guided in his work and teaching by three basic premises: the robin, junco, and other songbirds know everything important about their environment, be it backyard or forest; by tuning in to their vocalizations and behavior, we can acquire much of this wisdom for our own pleasure and benefit; and the birds' companion calls and warning alarms are just as important as their songs.

Birds are the sentries of—and our key to understanding the world beyond our front door. By learning to remain quiet and avoid disturbing the environment, we can heed the birds and acquire an amazing new level of awareness. We are welcome in their habitat. The birds don't fly away. The larger animals don't race off. No longer hapless intruders, we now find, see, and engage the deer, the fox, the red-shouldered hawk—even the elusive, whispering wren.

Deep bird language is an ancient discipline, perfected by Native peoples the world over. Finally, science is catching up. This groundbreaking book unites the indigenous knowledge, the latest research, and the author's own experience of four decades in the field to lead us toward a deeper connection to the animals and, in the end, ourselves.

"He can sit still in his yard, watching and listening for the moment when robins and other birds no longer perceive him as a threat. Then he can begin to hear what the birds say to each other, warning about nearby hawks, cats, or competitors. Young's book will teach you how you, too, can understand birds and their fascinating behaviors." —BirdWatching

"Here is the ancestral wisdom passed down from Apache elder Stalking Wolf to renowned tracker Tom Brown to Jon Young himself, who in turn passes on to the reader the art of truly listening to the avian soundscape. With all senses more finely tuned, you'll find yourself more aware of your surroundings, slowing down, and reconnecting with a native intelligence and love of the natural world that lies deep within each of us." —Donald Kroodsma, author ofThe Singing Life of Birds and Birdsong by the Seasons.
Find What the Robin Knows on Amazon : https://www.amazon.com/What-Robin-Knows-Secrets-Natural-ebook/dp/B005MZN22G/ref=sr_1_1?dchild=1&keywords=bird+language+dvd&qid=1586469627&s=books&sr=1-1
BIRD LANGUAGE ORGANIZATIONS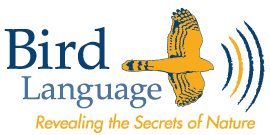 If you'd like to study bird language with licensed Bird Language organizations who specialize in nature connection mentoring and offer in-person events, we recommend the following organizations:
Northern California:
8 Shields
Contact: Lisa Donahue, Board Chair
Website: http://8shields.org/
Weaving Earth
Contact: Lauren Dalberth Hage, Director
Website: https://www.weavingearth.com/
Southern California: Wilderness Youth Project
Contact: Dan Fontaine, Executive Director
Website: http://wyp.org/
Western Massachusetts: Flying Deer Nature Center
Contact: Devin Franklin, Director of Programs
Website: http://www.flyingdeernaturecenter.org/
Maine: Lead with Nature
Contact: Dan Gardoqui, Principal
Website: http://www.leadwithnature.com
Vermont: Vermont Wilderness Awareness
Contact: Amy Hyatt, Executive Director
Website:http://www.vermontwildernessschool.org/
Arkansas: Ozarks Tracker School
Contact: Carl Keller, Executive Director
Website: http://ozarktrackers.org/
Oregon: 8 Shields PDX
Contact: Calen Kennett, Director
Website: http://8spdx.com/