Three seasonal biologists joined the team at the Richardson Bay Audubon Center & Sanctuary earlier this year. These new, 6-month seasonal positions are focused on engagement, restoration, and conservation. Shannon, Julia, and Juita work collectively to engage the community in Audubon's conservation and restoration efforts on Aramburu Island and at the Sanctuary.

Studying Restored Habitat

Shannon Grover is a restoration ecologist with a degree in conservation biology from the University of Wisconsin. Her love for biology first took her to Iceland to study the ecology of Lake Mývatn, then took her to our sanctuary at Richardson Bay.
Shannon has been leading the Aramburu Island restoration project to quantify invertebrate populations and characterize the vegetation on the island to measure the value of the new habitat for birds. We are quantifying invertebrate richness and abundance on Aramburu and on a nearby control island, which was not restored. Invertebrates are a critical food resource for native shorebirds and wading birds. Learning the arthropod families of the San Francisco Bay is no small task! When she isn't cataloging microscopic invertebrate samples, you will find Shannon dehydrating fruit and veggies from the Farmer's Market, or walking up Mt. Tam with a banjo.

Understanding Waterbird Ecology in the Bay

Julia Kelly is an avian ecologist. After finishing her graduate education at the University of Colorado, she moved to the Bay Area to pursue a career in coastal waterbird ecology, which lead her to the Richardson Bay Audubon Center & Sanctuary. Julia first fell for birds on Santa Cruz Island, where she studied the population ecology of a rare Loggerhead Shrike subspecies. Watching shrikes impale lizards on barbed wire fences was her favorite part of that research.

At the center, Julia is part of a collaborative effort to understand waterbird ecology in the Bay. Every year, tens of thousands of waterbirds migrate through, or winter in the San Francisco Bay. Pacific herring spawn in the Bay and birds feed on both fish and roe. It is thought that native eelgrass beds provide important spawn substrate for herring. Eelgrass habitat contains other invertebrate species that provide forage for waterbirds and Brant consume eelgrass directly.

Audubon is studying the relationship between eelgrass and herring and working to protect eelgrass habitat for herring and birds in the Bay.

Julia coordinated an aerial photo shoot of Richardson Bay this summer and will be conducting a GIS analysis of the eelgrass. Julia is also collecting data at Sonoma Creek, another site that Audubon restored. Data will be used to monitor sediment accretion and habitat enhancement for wetland species following restoration of this centennial marsh.

Propagating Native Plants for Restoration Projects

Juita Martinez joins us from La Honda, California. Most recently, Juita was a naturalist for San Mateo Outdoor Education. She brought nature and science education to 5th and 6th graders from all over San Mateo County. Juita earned a Bachelor's degree in Zoology from Humboldt State University and has worked on a variety of research projects. From raising marble butterflies, to native prairie restoration, to porcupine camera trapping, Juita has a strong background in biological monitoring.

At the Richardson Bay Sanctuary, Juita is coordinating the volunteer program and building our new greenhouse and native plant nursery from the ground up with the help of interns and volunteers. She has successfully recruited dozens of new volunteers in the few months since she started with Audubon.

The greenhouse replaces a shade structure that was no longer functional and will be used to propagate native plants species that will be transplanted to restoration sites. With a greenhouse, we can germinate and grow native plants throughout the winter. We will also use the greenhouse as a teaching resource where community members can come and learn about native species and restoration ecology.

Juita has found plenty of work for newly recruited and long term volunteers. In recent months, volunteers excavated a large, overgrown area at the Sanctuary, helped build garden beds, and painted beautiful artwork on display in the nursery area. Juita spends her free time hiking the expansive trails of West Marin and building her photography portfolio.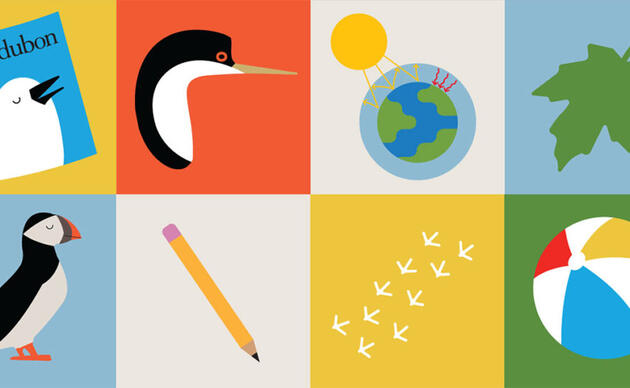 Audubon para niños
¡Niños pueden explora el mundo de las aves con actividades, artículos, videos, y más!