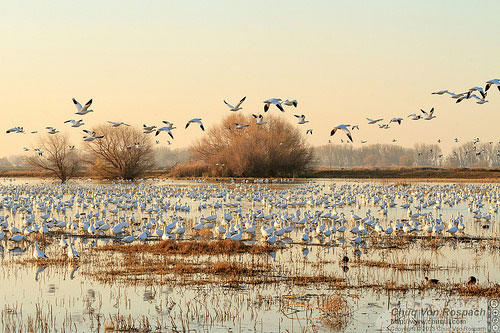 With the Trump Administration looking to reshape how water is distributed across the Central Valley, Audubon California is making sure that the concerns of birds and habitat are not overlooked.
While President Trump made a number of criticisms about how Central Valley water is used during his 2016 campaign, it really wasn't until this year that he began to set in motion a number of potentially significant changes, ones that Audubon California contends could jeopardize birds and habitat.
In the first week of January, the Administration directed the Bureau of Reclamation to "maximize water deliveries" from the northern part of the state to the southern Central Valley.
Commenting on the proposal in February, Audubon California stated, "As currently described has the potential to threaten an already fragmented system of habitat areas that receive less than the mandated share of water needed to create habitat and are frequently underfunded, limiting the ability to sustain habitat and wildlife populations." This is a reference to the recurring failure of the federal government to deliver water to Central Valley refuges identified in the Central Valley Improvement Act.
"Even though the Central Valley has lost roughly 90 percent of its wetland habitat, it remains a crucial stopover on the Pacific Flyway for millions of birds," says Mike Lynes, Audubon California's director of public policy. "These types of changes have the potential to impact bird up and down the flyway."
Since January, the Administration has taken further steps to reshape water deliveries in the Central Valley. In August, Secretary of the Interior Ryan Zinke echoed the president's call for more pumping, and suggested that the federal government may alter its agreement to coordinate delta pumping with the state in order to facilitate that. In October, Trump directed federal agencies to speed up environmental reviews of major water projects in California and to develop plans to suspend or revise regulations that hamper water deliveries.
"With all these proposals, our mission will be to make sure that the interests of birds and habitat are represented," says Lynes. "The birds of the Central Valley are one of California's great natural treasures, and we need to make sure that they're provided for."