For the first time in more than five decades, two pairs of federally threatened Western snowy plovers nested, and successfully fledged four chicks at one of the most popular public beaches in California - Huntington State Beach in Orange County, announced the U.S. Fish and Wildlife Service in a press release last week.
"Sea and Sage Audubon has been involved with the Least Tern Natural Preserve since the 1960s and their members are very excited about the news of two successful snowy plover nests this year. It is a wonderful testament to the hard work of the volunteers and biologists involved with protecting these birds. It also showcases the success of sharing our shores with wildlife and the public so both can enjoy this beautiful setting," said Sea and Sage Audubon Society President Doug Lithgow.
California State Parks and Sea and Sage Audubon Society were instrumental in helping to make this possible.
"By working together and maintaining the integrity of the Preserve, we can ensure plovers have a place to nest and return to year after year," said Mendel Stewart, Field Supervisor for the Carlsbad Fish and Wildlife Office. "For decades, California State Parks and the Audubon Society have been dedicated to bolstering recovery efforts for the Western snowy plover and the California Least tern at Huntington Beach."
The Western snowy plover has been listed as threatened under the Endangered Species Act since 1993. The recovery plan for the Western Snowy Plover relies heavily on a strong volunteer effort to conduct research, provide technical guidance, and inform the public in ways they can help support the plover's recovery. Volunteer docents from Sea and Sage Audubon worked with biologists to monitor the nesting pairs and chicks at the Least Tern Natural Preserve which provides a safe habitat for these birds within the very busy Huntington State Beach. Volunteers, California State Parks and USFWS also work to educate beachgoers on how to help shorebirds by disposing of trash properly to limit predators, following local leash laws and limiting disturbances around the preserve.
Learn more about Sea and Sage Audubon's work monitoring Western Snowy Plovers and Least Terns in Orange County here.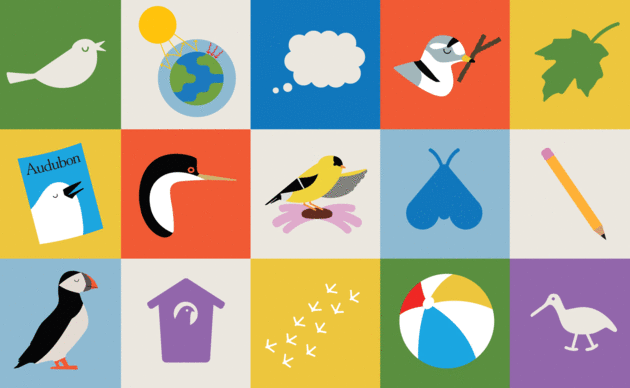 Audubon for Kids
Enjoy DIY activities that can be done at home or in a yard or park to give your child space to explore and feel connected to the natural world. Also available in Español.