The board council representative for the Bay Area Council is Nancy Piotrowski.
The Bay Area Council includes the following chapters:
Upcoming Council Meetings
October 26th, 2019, from 9am-1pm
Location TBA (likely in Marin County)

Notes from Past Council Meetings
May 6, 2017 (pdf)
February 25, 2017 (pdf)
September 10, 2016 (pdf)
April 9, 2016 (pdf)
January 9, 2016 (pdf)
September 12, 2015 (pdf)
June 27, 2015 (pdf)
January 10, 2015 (pdf)
September 13, 2014 (pdf)

Additional Documents & Resources
Burrowing Owl Program at Santa Clara Valley Audubon
Non-Profit Resource Sharing
SF Bay Program and Future Directions
BirdSeasons California
Marin Audubon - Land Acquisition
SF Bay Restoration Authority Ballot Measure
Audubon CA Factsheet on Ballot Measure
List of Projects Eligible for Restoration Funds
Map of Potential Bay Restoration Projects
Regional SF Bay Flooding Maps
Supporters of SF Bay Restoration Authority
Wimberly Wildlife Fund application
Accessing Audubon Works
Napa-Solano Audubon Climate Program
Hummingbirds at Home activity
Identification of Hummingbirds in Napa County
Sonoma Creek Marsh Enhancement Project
How you can help, right now
Oyster Club
Join us at sunset for oysters, wine, and music on the beach followed by elegant picnic fare at the Richardson Bay Audubon Center on October 12.
Quill Festival
Watch world-renowned tattoo artists give bird tattoos, learn bird language, enjoy beer and food trucks, stroll on the beach, listen to Artic tales, and take action on climate change.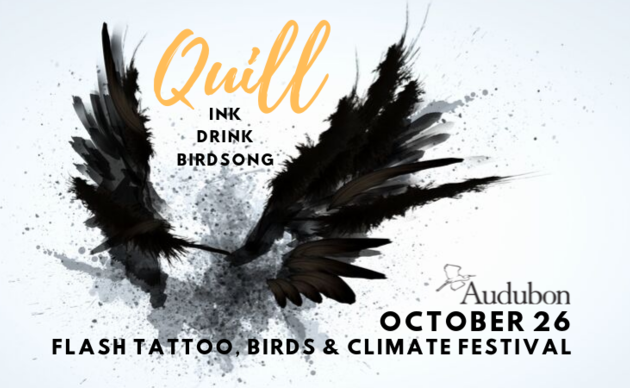 Get Audubon in Your Inbox
Audubon California Newsletter comes to your inbox monthly with breaking news and important conservation updates from our state.